Welcome
Since 1999 Starting Points has been seen as the "go to" site for families to address needs and receive assistance to access resources and community services. Morgan County Family Support Center ~ Starting Points has a main site in Berkeley Springs and will be adding an outreach site in Paw Paw in 2022. Programming and services incorporate the DHHR defined Family Support Services -
Strengthening Families
model. The focus of that model is to provide community based preventive activities designed to promote "parental competencies and behaviors that will increase the ability of families to nurture their children; enable families to access other resources and opportunities available in the community; create supportive networks to enhance child rearing abilities of parents; help compensate for the increased social isolation and vulnerability of families; and strengthen parental relationships".
Shenandoah Community Health serves as the fiscal agent to Starting Points and provides administrative support. As a program of SCH, a private non-profit 501 (c) 3 organization, Starting Points receives tangible support in the areas of budgeting, accounting, audit, and human resources.
---
Starting Points Partners with Local Business to Raise Awareness for Hunger

During September the Starting Points Family Support Center will be partnering with local Berkeley Springs restaurants to raise awareness about hunger in Morgan County. This year's Dining Out for Hunger event partners include The Country Inn, The Canary Grill and Charlottes Café where a portion of the proceeds will be donated to benefit the Starting Points Meal Time Community Kitchen. Starting Points Executive Director, Audrey Morris said she is grateful for the community support to feed the hungry in Morgan County, especially as food costs have risen significantly this year impacting many families trying to stretch their budgets. READ MORE HERE.
---
Morgan County Starting Points receives grant from the Tom & Virginia Seely Foundation

We are grateful for the generosity and support of the Tom & Virginia Seely Foundation. Special thanks to their board of directors and Foundation Director, Jan Wilkins for their support of our mission.

We received grants to support hygiene and cleaning products and clothing at Starting Points and in the schools, and the Morgan County Backpack program.




---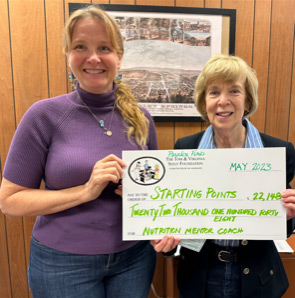 Pictured: Jan Wilkins, Seely Foundation and Tina
Badley, Starting Points FSC
Morgan County Starting Points receives grant from the Seely Foundation Paradox Fund to support nutrition programming
Morgan County Starting Points Family Support Center is honored to receive $22,148 from the Seely Foundation Paradox Fund to support nutrition programming in Morgan County. Programs include the Sardine Club at Warm Spring Intermediate School, an Omega 3 Club at Pleasant View Elementary and Mermaid Visits at Widmyer Elementary. Adult programs include Cheap Eats classes with Early Head Start families and participants at the Paw Paw Senior Center.
The focus of the education is on the importance of good nutrition and exercise. Specific focus is on incorporating Omega 3 fatty acids into your daily diet by eating seafood, chia and flax at least twice a week.